We're excited to announce the launch of this year's edition of the ESNsurvey under the topic of Active Citizenship. Through our research, we aim to determine social, civil and democratic attitudes of Erasmus+ and other exchange programme students and understand the impact of the abroad experience in the engagement of international students with society.
In the 2014 European Elections, only 28% of people aged 18-24 voted. Despite the overall disappointing turnout of young voters, the Erasmus Voting Assesment has proven that mobile youth was 3 times more likely to vote. To further understand the situation and find out which conditions and interventions at universities contribute to active citizenship of young Europeans, we would like to assess their approach and views towards voting behaviour, with the focus on the upcoming European elections. 
The questionnaire is divided into six parts and deals with the subjects of, among others, civic participation, information provision, European citizenship, and volunteering. 
We are going to examine:
how studying abroad affects students view on political aspects;
what influence does it have on their political engagement and voting behaviour; 
voting approach before the European elections and real participation; 
the impact that the Erasmus programme has on 'European identity'.
Comparative analysis will be done among ESNsurvey 2019, the Erasmus Voting Assessment and Eurobarometer. For the results of previous surveys, visit ESN.org/ESNsurvey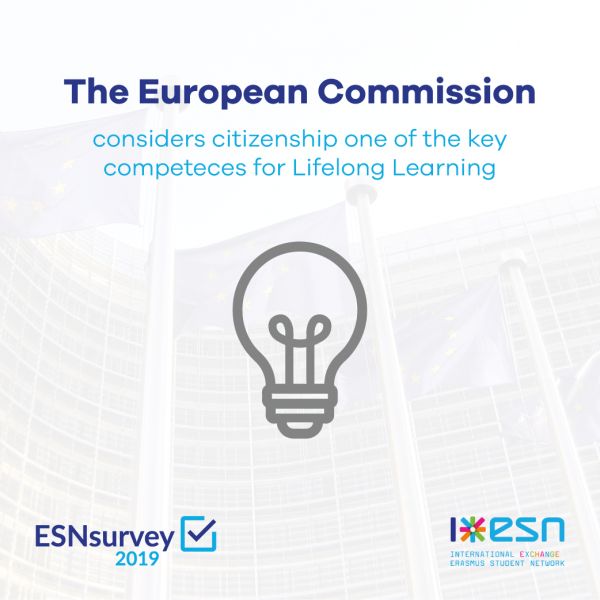 What is ESNsurvey?
ESNsurvey is the largest European-wide research project conducted solely by volunteers. The Erasmus Student Network uses the results to advocate for the improvement of exchange programmes and education in Europe. As every year, we hope that thousands of students all around Europe will fill in the survey and tell us their experiences and perceptions related to studying abroad and active citizenship. 
If you would like to support our cause and encourage young people to participate in the European Elections, register on http://ttimv.eu/esn take part in our Facebook event & find more information on esn.org/vote.